Our Variety
Our plant varieties.
Fruit
Black Raspberries
Chester
This is a late season berry with large fruit and a mild flavor.
Jewell Black Raspberry
Large berries with glossy skin, coherent, firm, and superior quality and excellent flavor.
Blackberries
Black Raspberries
Triple Crown Blackberries are large, sweet, aromatic berries.
Gooseberries
Black Velvet
A new cultivar with wonderful flavor, quality and beautiful berry color.
Available 2011.
Jahns Prairie
Jahns Prairie is a reddish pink goodeberry collected from the wild in Alberta, Canada.
Available 2011
Melon
Amish
Heirloom from the Amish community, extremely popular with members of SSE for many years. Sweet orange flesh is very jucy with full muskmelon flavor, rather thick rind.
Ananas
Ananas means pineapple in Italian and this netted melon has the aroma of a pineapple. Large fruit with a yellow sweet flesh.
Arava Cantaloupe
Arava melons are the signature Israeli variety found in all the markets. Sweet and refreshing, fragrant cantaloupes with no ridges and blemish free.
Blacktail Mountain
One of the earliest watermelons we know of, superb for the north, but it also grows well in heat and drought. The flesh is red and deliciously sweet, the fruit have a dark rind and weigh 8-12 lbs. each. This excellent variety was developed by our friend Glenn Drowns, owner of the Sand Hill Preservation Center in Iowa. A favorite of many gardeners across the USA. One of the best we have ever tried!
Cantaloupe- Honey Rock
Rind has a yellow cast when mature and a coarse salmon flesh.
Cantelope Melon Petite Gris
Excellent French melon, first noted in the garden of Bishop of Rennes nearly 400 years ago. Grey-green rind, flavorful, sweet orange flesh. Fruits typically weigh 2-3 pounds.
Charentais
A classic European melon with a sweet orange flesh and thick skin.
Cream of Saskatchewan
"Of all the cool climate melons I've grown in Oregon, Maine and Wisconsin, this takes the cake, not just sweet but real character and flavor." With his background in cucurbits, plant breeder John Navazio knows a good melon when he tastes one. Round 6-10 lb. fruits are light green with dark stripes and thin brittle rind prone to split. Heirloom said to have originated in the Ukraine, brought to Saskatchewan by immigrants early in the 20th century.
Golden Gopher Muskmelon
This melon's heavily ribbed fruits have deep deep orange flesh of incomparable eating quality. Called 'Pop Open' melons because they sometimes split open when ripe.
Retato Degli Ortolani
Netted melon with a sweet orange flesh, similar to a canteloupe.
Zata
Not the most beautiful, but one of the tastiest. Italians call it "bruto ma buono"- ugly but good. Yellowish skin with scales, but great tasting orange flesh.
Raspberries
Encore Red Raspberry
This firm fruited, late season, summer bearing red raspberry produces large tasty fruit throughout its season.
Heritage Red Raspberry
This hardy variety can, as all fall bearing varieties, produce two crops. The first comes in July and the second is the fall crop that starts in September and lasts right up until the first hard freeze. Berries are large, brilliant red, extremely firm and attractive. These berries are superb for freezing and delicious for table use. Because the fall season is usually cooler, the fall crop is larger than the summer crop. And the yield from only one full crop will usually be greater thant he combined yield if allowed to double crop. Rated the number one fall bearing variety.
Prelude Red Raspberries
Earliest summer red raspberry.
Red Currants
Jonkeer Van Tets
Has an extra large, red fruit that is rated tops for flavor.
Red Lake
Red Lake Currants have large, deep red fruits with a high juice content and good flavor.
Watermelon
Orangelo
Beautiful, deep orange flesh; very sweet ann crisp. flavor lives up to its name!
Sugar Baby
Sugar baby Round fruits, 6-8" in diameter, averaging 8-10 lb. Ripe melons are almost black. Good flavor.
Herbs
Basil
Genovese
The standard for Italian Basil
Italian Large Leaf
Broad, oval, crinkly leaves with the true spicy fragrance and taste. Leaves can be used fresh or dried.
Chives
Chives
Organic chives, similar to onions but milder in flavor.
Garlic Chives
Similar to regular chives but evinces a delicate garlic flavor. Makes for a great addition to salads and a delicious addition to most dishes.
Cilantro/Coriander
Organic Cilantro
Used for Mexican and Oriental cooking. Broad, celery -like deep green leaves.
Dill
Dill Greensleeves
Very aromatic, this delicate baby herb offers a mildly sweet licorice-like flavor that combines anise, celery and parsley. Gently enhance dips, potato salad, soups, sauces, vegetables, egg dishes and breads with baby dill's refreshing licorice-like flavor. Having a natural affinity with seafood, salmon dishes are especially compatible.
Oregano
Oregano

Oregano is often used in tomato sauces, fried vegetables and grilled meat. Together with basil, it contributes much to the distinctive character of many Italian, Greek and Mexican dishes.

It has an aromatic, warm and slightly bitter taste. It is a good source of many nutrients. It is a source of iron, manganese and dietary fiber, as well as a good source of calcium, vitamin C, vitamin A (through its concentration pro-vitamin A carotenoidsl ike beta-carotene) and omega-3 fatty acids.

Parsley
Curled Parsley
Curled Parsley is a tasty, breath purifying, nutritious garnish rich in vitamins and minerals. You can cook with it, use it fresh in salads and juice it. It can be used fresh, dried, or frozen.
Dark Green Italian Parsley
This variety is a beautiful dark green with large shiny leaves.
Italian Flat Leaf Parsley
This herb enhance practically all European and Middle Eastern foods. Parsley leaves are the basis of green sauces from Italy and France to Germany and Argentina. Flat-leaf parsley has large, sturdy, serrated leaves with a pronounced flavor. It goes well with chicken, eggplant, eggs, fish, game, lentils, mushrooms, mussels, pasta, peas, potatoes, poultry, rice, seafood, tomatoes, zucchini, and many other foods. The leaves are most commonly used, however, the stalks are good for adding flavor to stocks.

Parsley is highly nutritious. In addition to its volatile oils and flavonoids, it's an excellent source of two vital nutrients that are also important for the prevention of many diseases: vitamin C and vitamin A.

Moss Curled
Leaves are finely curled, dark green in color with a good flavor. The leaves make an excellent garnish.
Rosemary
Rosemary
The unmistakable aroma of rosemary - woodsy, piney, earthy. Great with roasted potatoes, in focaccia, and as a kabob skewer!
Rosemary
Rosemary grows on a small evergreen shrub belonging to the Labiatae, the mint family. Its leaves look like flat pine-tree needles, deep green in color on top while silver-white on their underside. Its memorable flavor and unique health benefits makes it an indispensable herb for every kitchen. It flavors chicken, lamb, pork, salmon and tuna dishes as well as many soups and sauces.Because it is a well-established antioxidant, you will definitely want to include this wonderful herb in your arsenal against disease!
Sage
Broadleaf
One of our favorites - the amoma of sage simply cannot be beat. The essence of Thanksgiving!
Organic Sage
A smoky, woodsy taste and aroma. Dry leaves in a cool, airy place.
Thai Basil
Sweet Thai
A "spicy" basil variety from Southeast Asia with essence of clove and anise.
Thyme
Organic Thyme
Cascading stems with dark silver-green aromatic leaves. Excellent tasting in soups.
Plants
Lettuce
Antares Lettuce
A shimmery pink and bronze oakleaf growing vigorously to magnificent size. The extra-frilled finely cut bright leaves are colorful and tender, not bitter even in early July.
Black Seeded Simpson
Looseleaf, large, upright, broad and crumpled with a slight frill. An old popular variety.
Bronze Arrowhead Lettuce
This Arrowhead scores a bullseye for form and color, developing a gorgeous oakleaf rosette in a dance of green and bronze.
Buttercrunch (Butterhead)
Compact, thick crumpled, dark green, popular bibb type.
Cracoviensis Lettuce
Highly prized in China where they peel and eat the thick fleshy stems like asparagus.
Forellenschluss Lettuce
The Jackson Pollack of lettuces, an heirloom Arche Noah, the Austrian genetic preservation project. An absolutely gorgeous romaine with the delicate taste and texture of a butterhead, distinguished for its deep green leaves flecked with wine-red splotches.
Freckles Lettuce
An heirloom with an unusally bright green romaine uniformly and densely splattered with crimson splashes. Well loved for its colorful look as well as for its buttery texture and sweet flavor.
Jericho Romaine
Last year, we grow some heads of Jericho that were nearly 5 lb without getting bitter - amazing! Crispy, juicy leaves make great salad greens.
Leaf Lettuce
Very curly and frilled, garnet red over pale green.
Red Romaine
Gourmet variety used as a colorful tangy addition to salads.
Red Sails Lettuce
1985 All-America winner has become almost synonymous with red leaf lettuce. A most attractive plant with purplish red-splashed leaves.
Romaine
Reliable tall dark green romaine that is an eastern and mid-western favorite variety.
Rouge d'Hiver
An heirloom variety commonly used as a baby leaf, but also makes a stunning full-size head. Color varies form a reddish-bronze to deep red on tips and dark green bases.
Salad Bowl
A rosette of lime green, notched leaves. Always tender and sweet.
Salad Gourmet Blend
Leaf mix, light green to emerald, bronze to deep red. This makes a colorful garnish or tasty salad.
Snow peas
Blizzard Snow Pea
Sweet thin pods heavily concentrated in sets that are easy to pick.
Oregon Giant Snow Pea
Oregon Giant is distinguished for its sweet rich green fat wide pods that are good for stir fries, steaming, and eating out of hand.
Watermelon
Moon and Stars Melon
Legendary Heirloom Variety rediscovered in Macon, Missouri. Can grow to over 40 lbs. The dark green rind has bright yellow spots on it! Spots range in size from tiny to several inches across. Leaves are also specked in yellow. It has very sweet, brilliant red flesh.
Vegetables
Asian Greens
Mei Qing Choi
Small perfectly formed Pak Choi with mint green stems and dark green oval leaves. Great for braising and stir-fry.
Asparagus
Jersey Giant
These purple bracketed spears are large and a very attractive green.
Available 2011
Jersey Knight
The spears are top-sized and are bright green with deep purple tips and bracts. Make a stunning addition to the dinner plate.
Available 2011
Jersey Knight
This is the asparagus people could not stop raving about last year! Tender with a sensational flavorful. Reverence Gardens asparagus is never tough or stringy and you don't have to trim off any woody ends - this asparagus is tender from to tip to bottom! Don't miss out on this ephemeral spring time treat!
Purple Passion
Purple Passion is one of the best tasting variety of asparagus. It has a deep-burgundy coloration in the spears that make it most striking in appearance. This variety has a 20% higher sugar content and is often eaten raw. Use it to garnish salads as the spears are generally more tender.
Available 2011
Beans, Yellow Wax
Golden Butterwax
Delicious, plump bean with a great bright yellow color.
Beet
Bull's Blood
Deep burgundy leaves for salad mix.
Heirloom variety produces beautiful, dark red leaves to jazz up your salad mix even under low-light conditions. The foliage color intensifies as the plant matures. Striking, both baby and full size. Roots show attractive candy-striped zoning when sliced.
Bull's Blood
[French variety, introduced 1840.] Famous for its mild, dark leaves usually harvested young for salad mix before the roots have even matured. Flattened round roots, but the leaves are the real attraction. Their reddish-purple color comes out most strongly in cool weather.
Early Wonder Tall Top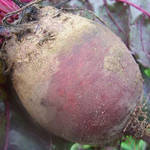 [Introduced 1911.] Used for early spring sowings, this versatile beet has choice tall tops for greens and dark red roots for salads, pickles, borscht, or sliced, cooked beets.
Early Wonder Tall Top Beet
Selected for earliness from Crosby's Egyptian and introduced in 1911.
Flatten Globe
Heirloom variety with deep red small leaves that are used in salad mixes. Very popular with chefs.
Red Ace
The best all-around red beet.
Rapid growth, sweet flavor, and tenderness are the characteristics of Red Ace. The round, smooth, deep red roots size early, with high uniformity. They maintain their sweet tenderness when larger and older.
Red Ace
The best all-around red beet.
Rapid growth, sweet flavor, and More..tenderness are the characteristics of Red Ace. The round, smooth, deep red roots size early, with high uniformity. They maintain their sweet tenderness when larger and older.
Red Ace Beet
Sweet early season beet with purple tops.
Touchstone Gold
The roots (and the leaf stems) are a deep rich gold. Golden beets add a wonderful color and flavor to salads without discoloring other ingredients. The roots are round, sweet and very unique. The green leafed tops are attractive with very contrasting yellow stems. that are mild flavored when cooked. Touchstone has a fancy shape with smooth skin, small stem attachment and small root.
Bok choy
Prize Choy
We have long liked Prize Choy for its elegant vase-like shape, medium thick white stems and smooth, mild flavor. Prefers cool weather, but is slow to bolt in heat.
Broccoli
Blue-Green
One of the best all-around varieties.
Green Magic
Superb uniformity.
Heads are smooth, well domed, and very attractive. Good heat tolerance. Suitable for summer or fall harvest. Extremely uniform in maturity, which reduces the number of trips to the field to harvest heads. Similar to Gypsy, but with a smaller plant, smoother heads, and better uniformity.
Spigariello Foglia Riccia
Small, narrow and bushy leaves on a medium sized plant that has a taste between broccoli and kale.
Broccoli Raab
Cima di Rapa Quarantina
Excellent taste cooked as a side dish or cooked together with a short pasta. Will store for 10 days in a plastic bag when refrigerated.
Bush Dry Bean
Green Bush Bean
This productive and dependable purple seeded bean is an old favorite of the professional grower.
Royal Burgundy
Gorgeous deep purple stringless pods that fade to green when cooked.
Tiger Eye Bean
Also called Pepa de Zapallo, originally from Argentina and Chile and known to me from the Abundant Life Seed Foundation collection. Among the most beautiful of all beans, bright golden ochre with maroon swirls. Their rich full-bodied flavor also makes them superb fresh shell and delicious baked beans.
Cabbage
Blues Napa Cabbage
Large heads of medium-green Napa cabbage with good cabbage flavor - great to eat fresh, cooked or pickled.
Cauliflower of Macerata
Light green regional variety with a nice taste cooked or fresh.
Red Acre
A popular home grown variety.
Red Express
A crunchy and satisfying red cabbage. Adds great color to salads and slaws, also good braised.
Red Express Cabbage
High in Vitamin C, folate and antioxidant, this early season cabbage is very flavorful and just the right size, about 2-4lbs, for those wanting smaller portions.
Verza di Verona
Regional savoy type cabbage from Northern Italy. Green crinkly tender leaves with some red in the center.
Carrot
Denvers Carrot
The original Danvers Half-Long was developed by market gardeners in Massachusetts in 1871. This modern refinement features 7" conical orange roots that taper to a point.
Mokum
The sweetest, earliest and crunchiest carrot we grow. We've tried a lot of other varieties but none have been as consistant as Mokum.
Mokum
Very sweet, early, bunching carrot.
Top-rated for taste in the early varieties. Good, slender, bunched "pencil carrots."
Nantes Fancy Carrot
Unusually good flavor and color.
Napoli
Napoli offers great flavor and color in an early spring.
Napoli Early Nantes
Considered a "candy" or "sugar" carrot and rated by many as one of the best tasting! This carrot comes in extra early and has amazing crispness!
Purple Haze
We love these carrots! Large, traditional shape, purple on the outside with bright orange core, crisp and tasty.
Red Cored Chantenay
Thick cored, red-orange from skin to center with excellent carrot flavor. Sweetens further in storage.
Yellowstone
Very high in beta carotene, these bright yellow carrots also have great carrot flavor.
Cauliflower
Cauliflower di Sicilia Violetta
Regional variety from Sicily with a deep purple shade that turns green when cooked. This vegetable has an excellent taste and looks beautiful.
Cheddar
This beautiful, early, orange cauliflower holds well in the field. It becomes an even brighter orange when lightly cooked. Grow Cheddar alongside purple Graffiti for an irresistible combination.
Snow Crown
Snow Crown is supposed to be a cinch to grow, I sure hope so!

Cauliflower is another one of agricultural challenge crops – look to see how successful I've been this fall!
Snowball
Deep, smooth, white and large.
Cucumber
Armenian
Yes, it's weird – but try it – you will like -

honest!

This unusual, snake like fruit is truly burpless.

It is actually a melon and is easily digestible by people who generally cannot enjoy cucumbers. Flavor is mellow and delicious. Light green, heavily ribbed skin is tender enough to forgo peeling.
Armenian Cucumber
This fruit is truly burpless. It is actually a melon and is easily digestible by people who generally cannot enjoy cucumbers. Flavor is mellow and delicious. Light green, heavily ribbed skin is tender enough to forgo peeling.

Introduced from Armenia to Italy in the 1400s, this attractive, crisp cuke stays sweet even when the fruit is large. Thin skinned with dense flesh, few seeds, and a pleasant, mild flavor.

Beth Alpha
These mid-east type cucumbers have a very thin skin with absolutely no bitterness that grow to about 5 or 6 inches long.
Tortarello Abruozzese
A long fruit that originates from Abruzzo. Has a light green color with some ribbing, excellent for salad and fresh eating.
Viridis
A very thin long fruit with a dark green skin with a sweet and crispy taste
Eggplant
Black Beauty
An early-maturing northern variety bearing classic-shaped, sweet, oblong fruits.
Listada de Grande
Beautiful striped Italian eggplant.
Listada di Gandia
Gorgeous purple stripes over white skin, this heirloom eggplant combines great flavor and great looks!
Ping Tung Long
Long thin purple fruits up to 12 in. long. Named for its native town of Ping Tung, Taiwan.
Rosa Bianca
Stunning eggplant, white with lavender streaking, traditional Italian shape, and large 2-lb size. Considered the best-tasting eggplant.
Rosa Bianca
Our favorite eggplant. A pretty Italian heirloom, white with lavender streaks
Rosita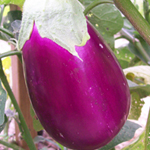 [Heirloom from Puerto Rico.] Plants produce excellent yields of lavender-pink teardrop-shaped fruits with white shoulders. The white flesh is mild and sweet. The fruit skin is tender without a trace of bitterness. Good all-purpose eggplant. It is more productive and generally superior to Rosa Bianca.
Slim Purple Asian
An early and beautiful long slender Chinese eggplant with a light purple (not purple black) color.
Garlic
Music
This medium-hot garlic is white with a little blush of pink.
Green Beans
Dragon Tongue
This tasty attractive 19th century heirloom actually hails from the Netherlands and is my hands down favorite fresh eating bean.

The flat 6" creamy yellow pods mottled with purple tiger stripes.

It's crisp, stringless and amazingly juicy when eaten fresh. Cook or market promptly after picking; turns rubbery and loses snap when stored. Not recommended for freezing. Loses purple coloration in cooking.
Provider
Provider is a snap bean known for its rich taste.
Purple Dragon's Tongue Beans
These beautiful beans are cream colored with purple stripes. An heirloom variety from the 19th century, Dragon's Tongue beans are crisp and juicy with traditional bean flavor.
Royalty Purple Podded
Bred at the University of New Hampshire by the late Professor Elwyn Meader. Introduced by the Billy Hepler Seed Company in 1957. Distinctive purple foliage and purple flowers. Stringless 5" slightly curved tender round pods that cook to green. I've tried other purple beans and like this one the best.
Greens: Arugula
Sylvetta Wild Arugula
Wild arugula has a slightly different shape and a stronger peppery flavor than other arugula varieties. Bright green leaves add lots of flavor to salads and are also great sauteed or in stir fry dishes.
Greens: Lettuce
Lettuce, Black Seeded Simpson
This lettuce was introduced in 1850! It has bright green, sweet tasting, large leaves. It's a very loose leaf lettuce!
Greens: Mustard
Southern Giant Curled
Large, upright, heavily curled, frilled margin, dark-green, fast-growing but slow-bolting.
Leek
Bandit Leek
Blue-green, erect flag and very thick.
King Seig
A newer leek variety, King Seig leeks are shorter but up to 3 inches thick with a gorgeous blue-green color.
Varna Leek
Makes a delicious alternative to spring onions either raw in salads or lightly cooked.
Lettuce
Forellenschluss
Old Austrian heirloom; the name means "speckled like a trout." A superb, gorgeous romaine lettuce that is highly splashed in deep red. Very beautiful and tasty.
Marshall Red Romaine
Deep red leaves with pink veins make a stunning-looking romaine head!
Nancy Butterhead
In true butterhead (aka Boston) lettuce fashion, Nancy has medium-green leaves with a delicate, buttery flavor.
Red Grand Rapids
Attractive, compact heads with ruffled, fringed leaves of deep burgundy red over green. Nice and crisp with a taste stays mild for a long time without bitterness.
Red Sails Looseleaf
Award-winning red-leaf lettuce with a crispy texture.
Rouge D'Hiver Romaine
An open-pollinated, heirloom variety, Rouge D'Hiver originated in France in l885. This red romaine is unabashedly gorgeous, reliably hardy and perfect for baby greens. Rouge D'Hiver produces large, robust heads of reddish-bronze, green-veined leaves which tolerate both heat and cold well. Even after being dressed, its showy red leaves stay crisp and their heft makes them ideal with weightier salad ingredients. Serve shiny leaves of Rouge D'Hiver on a platter, arranging cooked, chilled beet slices, fennel slivers and toasted walnuts. Dress with a simple walnut oil vinaigrette and snips of chives. Simple, elegant and healthy!
Sunset
Sunset is a beautiful, vivid leaf lettuce that is certainly worth the trouble. The outer leaves are red violet at the top, and become shades of green at the base. Frilly centered, and quite tender and sweet to taste.
Lima Bean
Christmas
Beautiful white beans with macaroon spots and swirls. Rich with flavor and dates back to the 1840's.
Okra
Burgundy
Bright red and keeps color when cooked.
Clemson Spineless
Rich green spineless pods.
Onion
256 Nabechan
Better flavor than other bunching onions.
Borrettana
Yellow brown, small flat onion that has made the italian onion famous. Very unique in flavor with good storage.
Cortalnd Hybrid
Thick copper skin, fine necks, and round shape.
Dakota Tears
Though you might cry when you cut one open- their flavor is robust and oniony- you won't be weeping about their impressive production of very hard yellow bulbs.
Evergreen Hardy Bunching
A hardy non-bulbing scallion-like bunching onion.
Parade
Parade bunching onions are dark green and virgorous with no bulbing at all. Has a nice, mild onion flavor.
Purplette
This amazing little onion is a lovely lavender color with light green tops. Somewhere between a pearl onion and a traditional onion size, Purplettes are great to eat fresh and are the perfect size for pickling.
Walla Walla Sweet Onion
Renowned sweet onion flavor, Walla Walla onion actually originated in Corsica and made its way to Washington over 100 years ago. Sweet onions don't have the pungency of storage onions because of lower sulfur content. They are also much juicier.
Onion, Red
Redwing
Classic dark red storage onion.
Onion, Yellow
Walla Walla Onion
Absolutely huge, sweet onion. This variety can get obscenely large and may frighten small children.
Pea
Cascadia Snap Pea
A cascade of 3" pods, long, darker green and sweet.
Sugarsnap
The children descend upon them as if they were a bag of chocolate," reports Ann Elder of Community Farm of Ann Arbor, MI, CSA. "Truly like candy—but far better," she concludes. Awarded the coveted AAS Gold Medal in 1979 and later voted the #1 all-time AAS. One of the very best raw treats in the garden.

Pods reach superb sweetness only when completely filled. Then they are incomparable. Bred by Calvin Lamborn of Gallatin Valley.
Pepper: Bell or Sweet
Brandywine-Red
What flavor! It has always ranked high in yearly taste tests and has ganed considerable popularity recently. This Amish heirloom dates back to Pennsylvania in the 1880's and yields large, deep red fruits on a large indeterminate vine.
Chocolate Sweet Pepper
This sweet pepper has a thickly walled flesh and a great taste when ripe with burgundy-red inside and chocolate outside.
Corno di Toro-Horn of the Bull
Very sweet pepper with thin skin and thick walls. Brilliant red when ripe and ideal for frying or grilling.
King of the North
New this year, a green pepper bred to be sweet and firm.
Sunrise Orange
Beautiful yellow bell pepper that turns orange and then bright red at full maturity. The fruits are thick walled and sweet.
Sweet Chocolate
The thickly walled flesh (burgundy-red inside and chocolate outside) has a great sweet taste.

My favorite of all the large bell peppers.
Pepper: Hot
Anaheim
This pepper is also referred to as the New Mexico pepper and is the type of pepper used for charred, roasted chiles. It is mildly hot and is fun to use for stuffed peppers, because some can be quite hot while others are mild - it makes for an interesting dinner to see who will get the spicy one! Drying? no. Scoville Rating: 500-2,500.
Black Hungarian Pepper
Highly ornamental in the field and on the plate! Great in salsa and other Southwest dishes for mild heat and delicious flavor.
Czech Black
2-1/2" long conical fruits ripen to a lustrous garnet—so striking that seed grower Roberta Bailey kept a bowl on her table just to admire. Mild juicy flesh runs with a cherry red juice when cut. The heat, a tad less than a jalapeño's, is in the ribs and seeds and is "just right for many of us" says CSA farmer Jim Sluyter.
Czech Black Hot Pepper
Black when immature, so striking that seed grower, Roberta Bailey, kept a bowl on her table just to admire. Mild juicy flesh runs with a cherry red juice when cut.
Early Jalapeno
2-2 1/2" x 1", sausage-shaped, blunt fruits. Dark green changing to red.
Fish
fruits. The 2" curving pendant fruits look a little like swimming fish. They turn from white with green stripes to orange with brown stripes to red, packing considerable heat and full-bodied flavor that especially enhances shellfish. A mutation of a common serrano pepper that probably originated in the 1870s, by 1900 Fish was extensively grown by the African-American community in the Philadelphia and Baltimore regions. Listed on Slow Foods' Ark of Taste.
Hungarian Hot Wax
Dependably productive.
Yellow hot pepper with 5 1/2" x 1 1/2" smooth, waxy fruits tapering to a point. Easy to stuff and to peel after roasting; thick-fleshed for frying. Its sunset-ripening peppers change from yellow to orange to red, and make the prettiest pickled peppers. Early and widely adapted. Definitely, but not overly, hot.
Hungarian Hot Wax
Yellow hot pepper with 5 1/2" x 1 1/2" smooth, waxy fruits tapering to a point. Easy to stuff and to peel after roasting; thick-fleshed for frying. Its sunset-ripening peppers change from yellow to orange to red, and make the prettiest pickled peppers. Early and widely adapted. Definitely, but not overly, hot.
Hungarian Hot Yellow Wax Pepper
A long, carrot-shaped waxy pepper used for frying, stuffing, or as colorful pickled peppers. Ripens from pale yellow to deep golden orange to cherry red. Heat varies amond strains, this particular strain is medium with a slight sweet flavor.
Jalapeño
This popular pepper is named after the city of Xalapa, Veracruz where it is traditionally produced. Jalapeños are known by different names in Mexico, such as cuaresmenos, huachinangos and chiles gordos. A chipotle is a jalapeño that has been smoked. Drying? no. Scoville Rating: 2,500-10,000.
Jalepeno
Green to red, thick and very hot.
NuMex Joe E. Parker Pepper
A Southwestern-style traditional Anaheim chili pepper. Great used for stuffing, grilling, roasting, or processing. Peppers have a crisp flesh with mild heat and excellent flavor.
Potato
Bintje
Developed in 1905 by Dutch schoolmaster, K.L. de Vries. The result of a classroom genetics demonstration and named after a star pupil, this variety has stood the test of time. Medium sized smooth skinned tubers and excellent storage qualities, with a flavor that is outstanding anyway you prepare them. This is the top potato variety grown in the world.

German Butterball
To say that this potato is excellent, might be considered by some, an insult. After just one bite of this mouth watering creamy yellow flesh potato you'll know why it won first place in Rodale' Organic Gardening "Taste Off". Introduced by David Ronniger in 1988 from a handful of potatoes which he then increased.
La Ratte Fingerling
This fingerling has yellow skin and waxy, creamy flesh. It is excellent in salads or steamed and served hot or sautéed and holds its shape in stews.
Mountain Rose
Bright red inside and out potato from Colorado. Excellent as potato chips and French fries. It's also great for baking, mashing, and Fourth of July potato salads. Enjoy these as oven fries with any meal, or a snack all by themselves. High in antioxidants!
Nicola
Nicola is a beautiful golden yellow inside and out potato that works well for boiling, mashing, and roasting along with a unique nutty potato taste. This is a waxy type potato that makes it great for salads too. When baked, this potato's excellent taste can stand alone without adding the extra condiments and is becoming one of our favorites.
Purple Majesty
Purple Majesty potatoes are loaded with 235 milligrams of anthocyanidins per 148 gram serving (approximately 1.5 potatoes), nearly twice the amount found in any other produce item at a fraction of the cost. Anthocyanidins are a subclass of high-potency antioxidants shown to reduce the risk of cancer and heart disease, lower cholesterol, strengthen the immune system and decrease age-related memory loss.
Red Thumb Fingerling
The Red Thumb is a relatively new fingerling and with its one of a kind brilliant red skin and unusual red flesh, it cries out for a place in a gourmet setting. The uniformity of this particular potato makes it a favorite among chefs.
Rio Grande
Light russet skin and white flesh. Great as a baked potato or fixed anyway you like them.
Russian Banana Fingerling
Developed in the Baltic Region of Europe/Asia and heralded as excellent for salads, it is a favorite among chefs and gourmet markets. Yellow, banana-shaped, waxy-type tubers with firm texture that have wonderful flavor baked, boiled and steamed.
Yukon Gold
Immensely popular since its 1981 release from Canada. If you like your fried potatoes golden brown, Yukon Gold will almost turn that color by themselves. Yukon Gold is also favored by top chefs for making traditional mashed potatoes, the ones that are made from the all American Russet potato. However, with Yukon Gold, your mashed potatoes are golden and beautiful to both the eye and the taste.
Pumpkin
Sugar or Pie Pumpkin
Deep orange, thick, sweet flesh make this the choice for cooking.
Tonda Pandana
A beautiful, ornamental pumpkin that has orange skin with green stripes between the ribbing. They weigh 4-6lbs each.
Radish
Cherry Belle
Round bright red with a great flavor.
D'Avignon
The radishes are 3-4" long, slender, 2/3- 3/4 red, with a white tip, tapered to a point. Good fresh market specialty.
Easter Egg
Make beautiful bunches with this mix of red, purple, and white round radishes. Maturing over an e More..xtended period of time, they stay crisp and mild even when large. Great fun for children and adults alike.
French Breakfast
Long and blunt, rose-scarlet with a white tip. White, crisp flesh, mildly pungent flavor, top quality.
Sparkler
Scarlet with white tip and mild flavor.
White Icicle (lady finger)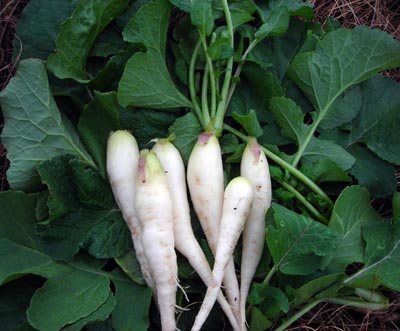 A mild-flavored, white variety with carrot-shaped roots that reach a length of 4 to 5". Best harvested when small but remains milder than other varieties when harvested large. Stands heat well. One of our favorite varieties. Gardeners who grow this for the first time are often pleasantly surprised by this good variety.
Rhubarb
Rhubarb
Deep crimson stalks and leaf veins contrast sharply with dark green, heavily crumpled leaves. First introduced to U.S. Gardeners in 1857.
Available in 2011
Spinach
Corvair
Very dark green, smooth, oval leaf spinach
Regiment
Upright, oval to soft triangle. Slight savoy, dark green, elongated triangular.
Squash
Black Beauty Zuchinni
The standard summer squash. Compact spiny everbearing bush with dark greenishblack skinned fruits. Long, cylindrical fruits are best eaten when 6-8" long. Excellent variety for freezing. AAS in 1957.
Sugar Snap Peas
Cascadia Snap Pea
3 in pods wit a dark green shade and sweet flavor.
Oregon Sugar Pod
Edible flat pod with a delicious taste.
Sugarsnap Snap Pea
One of the very best raw treats in the garden, far tastier than dwarf varieties.
Summer Squash
Costata Romanesco Zucchini
This Italian zucchini wins every taste test basked on its unique, slightly nutty flavor and exceptional texture. Tender, gray-green skin and prominent ribbing also give this Italian variety a distinctive appearance.
Early Prolific Straightneck
A yellow slightly warted summer squash.
Golden Scallopini
This summer squash is aucer-shaped and has golden fruits with scalloped edges. A delicious summer squash roasted, steamed or eaten raw.
Sweet Potato
Beauregard
Dark red-orange skin with moist, sweet, orange flesh
Swiss Chard
Fordhook
A dark glossy green, deeply savoyed that is perfect for use in salad mixes or steamed.
Golden Chard
Emerald green leaves against deeply golden stalks make a striking combination. Leaves are savoyed with moderately thick stems.
Red Swiss Chard
Swiss chard is truly exceptional with an impressive list of health promoting nutrients. This chard has bright red stalks and dark green leaves. Both the leaves and stalk of chard are edible.

Verde a Costa Blanca
Beautiful and excellent taste with leaves that can be cooked like spinach.
Tatsoi
Tatsoi
Our favorite Asian green. Can be harvested small for salad mix or as a large rosette. Beautiful, nutritious, tasty.
Tomato
Amish Paste
For many, this heirloom from the 1800s is *the* sauce tomato. Listed on Slow Food's Ark of Taste, Amish Paste has rich, dense red flesh with just the right amount of tartness.
Amish Paste
21 seed savers can't be wrong! That's how many listed Amish Paste in the 2007 Seed Savers Yearbook, making it one of the most popular items in the Exchange. Their comments tell it all, "the ultimate sauce type," "wonderful flavor and production," "my favorite paste tomato for the past eight years," "large, meaty, heart-shaped fruit," "prolific, good in drought and wet weather." Thick bright-red flesh, juicy, and firm textured. Good for fresh eating and for sauces.
Black Cherry
Sweet, robust, round tomatoes. Color is almost black but the flavor is dynamic - much like an heirloom tomato.
Black Cherry Tomato
The so-called "black" tomatoes are among the richest of tomato flavors. This one is no exception - beautiful dark red cherry color, too.
Black Krim
Our favorite black/purple heirloom. Deep, complex flavor. One of our customers (a black tomato fiend!) called it "robust" and we agree. Great texture and size.
Black Prince Tomato
An Heirloom tomato, originally from Siberia, this is one of the most popular and favored black tomatoes. Originally introduced from Irkutsk, Russia and is regarded as a "true Siberian tomato" The Black Prince tomato is said to have considerable health benefits beyond the presence of lycopene.

These deep garnet round, 2-inch (2-3 oz.) tomatoes are full of juice and incredibly rich fruity flavors. The small fruits contain deep rich colors on the inside. Perfect for eating fresh, and in cooking in tomato sauce or other culinary wonders.
Brandywine
I can remember specific brandwines with perfect clarity. If I could take 5 things with me onto a desert island, I would take 5 brandywine tomatoes.
Cherokee Purple
We have grown this for years, and although it isn't a reliable producer and seems to poop out on us earlier than other varieties, we grow it anyway...now that I think of it, we should probably just grow Black Krims. Cherokee Purple tomatoes are very unique though, and just as tasty as any other black variety.
Cherokee Purple
Our most sought-after heirloom tomato for fresh eating and sandwiches, these dark purple/brown beauties are known for their unmistakable smokey-sweet flavor!
German Johnson
New to us this year. This is the pink, regular leaf strain. Supposedly it's taste is similar to brandywine, but the fruit is earlier and not as big.
Great White
A magnificent, almost perfect, "white" tomato with low acidity and few seeds
Green Zebra
This was my introduction to the wonderful world of heirloom tomatoes. A lively citrusy zing characterizes this jewel colored beauty. (When the kids were younger I would make a "stop light" tomato salad, arranging red, orange, and green tomato slices to look like a stop light!)
Green Zebra Tomatoes
Beautiful chartreuse with deep lime-green stripes, very attractive. Flesh is bright green and very rich tasting, sweet wth a sharp bite to it. A favorite tomatoe of many high class chefs. This is the tomatoe colored for the Green Bay Packers.
Principe Borghese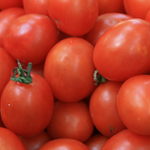 (Determinate) Italian heirloom bred for sun drying, this low moisture variety maintains more flavor when dried than do other varieties. Slightly oval, 1 oz fruits. Prized in Italian cooking when reconstituted in olive oil, they can also be crushed into small flakes to quickly thicken a thin sauce while adding a rich tomato flavor.
Red Brandywine
This heirloom type has the bold "beefsteak-y" flavor that's hard to top. A good place to start if you're an heirloom tomato neophyte.
Rose
An Amish heirloom from Pennsylvania. Large, crack resistant, 10 oz. fruits are meaty and dusty rose colored. Flavor is excellent, and is considered by some to rival Brandywine. Plants are vigorous and strong with good leaf cover.
Rose
OK – so I'm not a huge fan of Brandywine – I've found better tomatoes out there. This is this season's replacement for Brandywine. Deep pink and smoother than Brandywine, Rose is every bit as large, meaty, and flavorful.
Rose de Berne
This French emigré is a superior medium-sized pink tomato that delivers the robust flavor of the bigger types. It has a rich sweetness other pinks can't match.
Striped German
Bicolor red and yellow fruit.
The flat, medium to large, variably ribbed-shoulder tomatoes are shaded yellow and red. The marbled interior looks beautiful sliced. Complex, fruity flavor and smooth texture. Medium-tall vines. Indeterminate.
Tomato Zebra
Eye-catching and unusual, the unique zebra tomato wears its characteristic greenish to yellowish vertical stripes on a rather hardy skin. Appropriately named for its striped appearance, this tomato variety is about the size of a golf ball and offers a surprisingly excellent rich tomato flavor.
Yellow Brandywine
A Golden-yellow version of Brandywine.
Tomato, Cherry
White Cherry
Appealing, pale yellow cherry tomatoes avg. 1 1/8-1 1/4" diam. and have a good, mild taste.
Turnip
Hakurei
Japanese baby turnip variety. Sweet, crunchy and delicious. It might be my favorite thing to eat straight out of the ground while I am out in the field in the Spring and again in the Fall. We have also grown Tokyo Cross and can't tell the differene between the two
Winter Squash
Acorn Squash
Acorn squash is a dark-green, deeply ribbed fruits that turn orange when stored. Moderately sweet, dry, fine-flavored squash.
Acorn squash is most commonly baked, but can also be microwaved, sauteed, and steamed. This squash is not as rich in beta-carotene as other winter squashes, but is a good source of dietary fiber and potassium, as well as smaller amounts of vitamins C and B, magnesium, and manganese.
Burgess (Buttercup)
Many folks are not familiar with buttercup squash, but we think this heirloom variety's dark orange, very sweet flesh will win over all tasters. Makes a superb pie.
Burgess Buttercup
A dark green sweet flavored squash that keeps well.
Bush Delicata
Cream colored fruit with dark green stripes and flecks. One of the best tasting fruited winter squash varieties. The Delicata is known for its sweet flesh and is excellent for stuffing and baking.
Delicata
This winter squash has a sweet flesh but for me, takes best to savory applications because of the nutty flavor qualities it carries. A good option for stuffing once the seed cavity is hollowed out. Though all fall squash skins are edible, the outside skin of the delicata is thicker than Butternut and many of Delicata's other hard squash kin.
Marina di Chioggia
A very old variety from near Venice, Italy. A round fruit with knobby skin and sweet orange flesh. This squash is essential for a great soup, gnocci or just roasting.
Padana
Shaped like a pumpkin, this squash is tasty and stunningly beautiful with alternating vertical grey/green and orange ribs with a sweet dry orange flesh.
Padana
Shaped like a pumpkin, this tasty and stunningly beautiful squash has a sweet orange flesh and grey/green skin and alternating orange ribs. It can be used as a Halloween pumpkin, soup, gnocci or roasting.
Spaghetti
Roast Spaghetti like any other winter squash, then scrape the flesh into spaghetti-like strings with a fork! Kids love it!
Spaghetti NT
A tasty substition for spaghetti! This squash unravles into threads that resemble spaghetti when cooked.
Spaghetti Squash
Introduced in 1934. Spaghetti-like strands of flesh are delicious in many dishes. Check out the recipes section for a way to use spaghetti squash as an alternative to a pasta salad.
Table Queen
A dark green acorn squash with an excellent flavor.
Table Queen (Acorn)
Very dark green, ribbed acorn-shaped winter squash with a nutty sweet flavor.
Winter Squash Betternut
The exceptional butternut is the most widely grown winter squash. Versatile and diverse, squash has no rival in the kitchen when it comes to culinary flexability. Producing a delicious rich golden-yellow flesh with excellent texture, the classic butternut squash is one of the most popular varieties. Butternuts are a smooth long-necked bowling pin- or bell-shaped squash encased with a pinkish-tan hard rind. Having a relatively small seed cavity in its bulbous end, its tender flesh offers a superb creamy flavor. This old favorite offers fine eating and consistent flavor. Yielding more meat than most other squashes, butternuts weigh two to five pounds.
Zucchini
Cocozelle
Rich-flavored zucchini ribbed with light green stripes was a market favorite last year and one of my favorite zucchinis as well.

Originated in Italy and called
Cocozella di Napoli
in the 1800s. For you trivia buffs, the term 'zucchini' was first used by California seed house Aggeler & Musser in 1921
Costata Romanesca
According to Will Bonsall, "the only summer squash worth bothering with, unless you're just thirsty."

This was my other favorite zucchini last year and also a hot seller at market. Deeply striped and ribbed, Costata resembles Cocozelle, with a distinctive sweet mildly nutty flavor.
Yellow Straightneck Squash
Yellow summer squash has been a favorite for over 150 years. This is a yellow-skinned, white-fleshed
summer squash that is delicious lightly steamed, roasted or eaten raw.